Thomas S. Handforth's Caldecott Medal acceptance speech heard for the first time in 80 years. 
In 1939, Thomas S. Handforth was awarded the second ever Caldecott Medal for his children's picture book "Mei Li." The Caldecott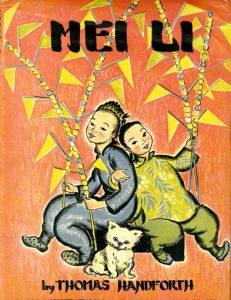 Medal has been awarded by the American Library Association each year since 1938 for "the most distinguished American picture book for children."
Thomas S. Handforth's acceptance speech was recorded at the time using a technique that, similar to vinyl recordings, used a needle to cut 3D grooves into a flat disc which is then played back using another needle. We are all familiar with the vinyl records that were the standard for listening to music for much of the 20th century and which are enjoying a renaissance today.
This speech was captured on a single aluminum disc which has been in the archives of and was donated to Tacoma Public Library by the Handforth family with a significant portion of the collection of his artwork and personal papers.
In 2018, Tacoma Public Library applied for and received a grant to digitize and make available to the public images of his art. The Library also proposed in the grant, that, if possible the speech be digitized.
Originally, it was thought that the aluminum disc could be digitized using the styluses that were attached
to the disc using a turntable that would need to have its speed adjusted as well as the weight of the arm so as to not damage the grooves in the disc. Because the disc was aluminum, metal needles could not be used. Vinyl discs can be digitized through special digitizing equipment that record from an attached turntable.
But…there was risk of damaging the aluminum and forever wiping out the voice of Thomas Handforth using this method. Our intern, Spencer Bowman, recent MLIS graduate with a specialization and experience in archival work, who was contracted work conducted research in finding a company that would be willing to work on such a digitization project.
Due diligence was done and only a handful of company's nationwide emerged as potential vendors for this project. We selected the prestigious NEDCC (Northeast Document Conservation Center) in Andover MA.
NEDCC was able to digitize our disc without having to use the stylus, but rather, a technique which uses IRENE, a machine which records microscopic 3D images of the grooves on the disc and then analyzes the images for the audio transcription.
In August 2019, we were able to hear Thomas Handforth's voice for the first time in 80 years! 
Listen to Part 1, opens a new window and Part 2, opens a new window of Handforth's Caldecott acceptance speech.