Feasibility Study for Hilltop and Eastside Library Services
Project summary:  
The Tacoma Public Library (TPL) once had libraries in the Eastside and Hilltop neighborhoods. These neighborhoods have traditionally been, and currently are, communities of color, strong in diversity and community, but with relatively limited access to resources. The Swan Creek and Dr. Martin Luther King Jr. (MLK) libraries were closed in 2011 as the City of Tacoma experienced fiscal challenges following the Great Recession. This disinvestment of library services generated an immediate and ongoing outcry from the Hilltop neighborhood in particular, and the formation of the Hilltop Library Planning Committee (HLPC), which exists and persists to this day.  
In 2019, the Tacoma Public Library Director requested and received City funds to study the best way to restore library services to the Eastside and Hilltop neighborhoods. Although this project was delayed by the COVID-19 pandemic, the Study was completed in June 2022. This final report clearly articulates the respective visions of the Eastside and Hilltop communities' desires for the restoration of library services and provides recommendations for specific facility types and service options that will best meet that vision. 
Tacoma Public Library thanks all community partners and participants who contributed their time and energy to this study.  
Read the final report:, opens a new window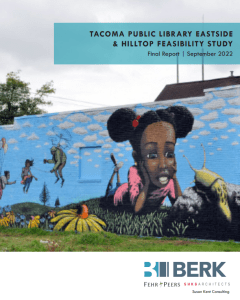 Appendices:
Watch BERK Consulting's presentation of the results: