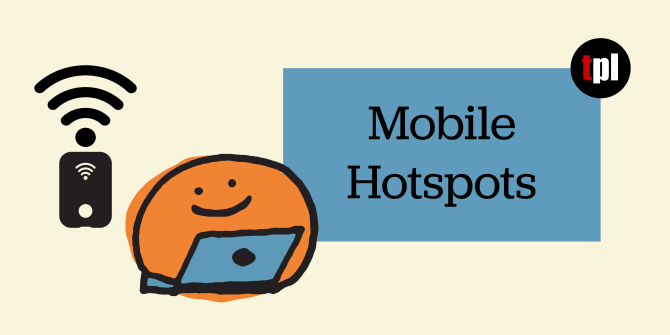 Tacoma Public Library (TPL) Mobile Hotspot Kits provide a Wi-Fi Internet connection using T-Mobile's LTE network.   TPL Mobile Hotspots are available for checkout to patrons 17 and older.  Connect your laptop, tablet, or mobile phone to a Mobile Hotspot to access Internet resources. 
TPL understands that internet access is critical for the daily lives of our patrons. We are providing hotspots to help address digital equity gaps, and provide increased connectivity for our community, in addition to the computers and Wi-Fi available in our library locations. 
Instructions
Charge the  Mobile Hotspot with the provided cord and wall plug

 

Turn on the Mobile Hotspot by holding down the power button

 

The Wi-Fi light will turn on when the Mobile Hotspot is on

 

If the Mobile Hotspot does not turn on, keep it plugged in for a few more minutes, as it may not be charged

 

Search available Wi-Fi networks on your computer or other Wi-Fi enabled device and select "Tacoma Library Hotspot"

 

Enter the password on the back of device to connect

 

Please see our FAQs for additional troubleshooting information 

 
Mobile Hotspot FAQs
The TPL hotspots provide a Wi-Fi Internet connection using the T-Mobile LTE network. Devices like laptops and tablets can be connected to access Internet resources.

Just charge them, turn them on, and access Wi-Fi.

They are free with a Tacoma Public Library card. Check with your local Tacoma Public Library to get a library card.

There is a hotspot and charging cord in each box.

Up to 10 devices can be connected to a TPL hotspot.

You can check out a hotspot for three weeks. If they do not have a hold on them, they will automatically renew three times, just like our books.