1000 Books Before Kindergarten
Reading one thousand books before kindergarten? That seems like way too many, right? Not at all. You got this.
It doesn't matter if your child is three, or just three months - there's no better time to start than now! 
Reading helps build social and emotional skills, sparks creativity and imagination, promotes bonding, and helps kids do well overall in school. Take that motivation, open one book, and get started. And remember, 1000 is just a number. The goal is to work reading aloud into your regular routine and let the magic of stories do the rest. 
Not sure where to start? Take a look at this list of Librarian's Favorites: Books To Read Before Kindergarten, opens a new window.
Sign up today for the 1000 Books Before Kindergarten reading challenge! 
The Basics
Who
Any child who hasn't started kindergarten is encouraged to participate. You can start at any time, just be sure to finish before your child enters kindergarten. 
How to Sign Up
Sign up on Beanstack, opens a new window to log your reading and get prizes for the 1000 Books Before Kindergarten challenge! Log each time you read a book to earn awesome badges.  
Paper logs are available for download or at your local branch, but Beanstack is the official way to track. Please ask library staff if you have questions about Beanstack, or need help making an account. 
Prizes
Your child will receive a prize for signing up, another prize for every 100 books they read, and an extra fun prize when they complete the challenge.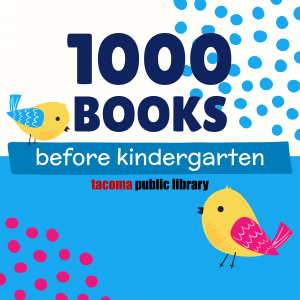 1000 Books Before Kindergarten Frequently Asked Questions
Why 1000 books before kindergarten? 
Sharing books and stories is important for a child's brain development. 
Children who are read to at an early age have larger vocabularies when they enter school.

 

The most important predictor of school success is being read to at home during early childhood.

 

Reading aloud to infants and children encourages social, emotional and cognitive development.

 
A toddler's brain crates up to two million new connections every second.

 

A child's brain develops most rapidly before the age of three.

 

The ability to learn language skills is greatest before the age of six.

 
Do books that I read with the child before signing up for this program count? 
Yes! If you already have a log of books that you've been keeping track of, please feel free to add them to your Beanstack tracking. 
If I use a paper reading log, do I still need to use Beanstack? 
Yes, you will still need to sign up for a Beanstack account and input your reading there in order to complete the challenge and received prizes. This is a long-term program, so keeping track of things electronically helps everything stay organized.
I don't have a Smartphone, tablet, computer, or internet access. How can I participate? 
The library has public computers that you can use for all your Beanstack needs. Staff are available to assist you. 
Do I need a library card to participate? 
No, a Tacoma Public Library card is not required to participate. However, having a library card can help you access 1000 books to read for free! 
Can I count the same book more than once? 
Yes! If your child loves reading the same story over and over again, they're still learning and growing. You may count the same title as many times as your child wants to read it. 
Can I wait to pick up all the prizes at one time? 
Please plan to pick up prizes within 90 days of earning them in Beanstack. If this is not possible, please let a staff member know and we can still get the prizes to you! 
Can I read any book, or just the ones on a library booklist? 
You can read any book for this reading challenge. Library booklists are a great place to start, but you are welcome to read any book! 
When is the deadline to finish reading 1000 books? 
This program will hopefully remain active for many years in the future. The books must be completed before a child starts kindergarten. You have plenty of time to finish! 
How old does my child have to be to participate? 
There is no minimum age to participate. This program is for children from birth to not yet in kindergarten.