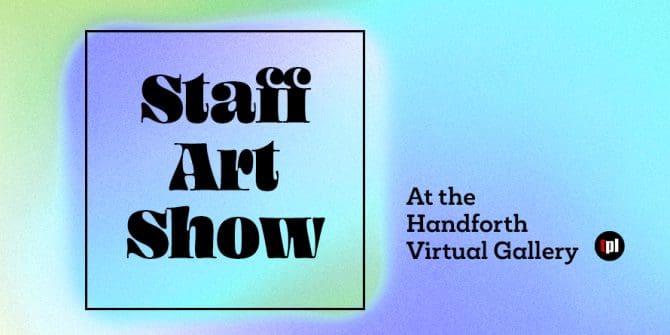 Tacoma Public Library Staff are known for being radically welcoming to their community, but did you know they are also radically creative? Take a look at our latest Staff Art Show available December 1st. Look, listen and learn about our staff's talents. The online Handforth Virtual Gallery will give you a glimpse of some extraordinary work.

Learn More About the Handforth Gallery
Through a partnership with Tacoma Needle Exchange and the Dave Purchase Project, Tacoma Public Library will be placing a Naloxone (NARCAN) vending machine in the lobby of the Moore Library. The vending machine is intended to provide free access to patrons and community members who have friends, family, or are themselves at risk of an opioid overdose. We anticipate being able to provide this service through March 2023, and possibly longer if additional funding is secured. 

Additionally, the Tacoma Needle Exchange will stock naloxone in TPL branches and train staff on how to administer it in case of an overdose on TPL premises. Finally, the Tacoma Needle Exchange will provide no-cost peer counseling services to patrons for 2-4 hours per month at up the Moore and South Tacoma libraries for the next year. 

Tacoma Community Internet is a project of Tacoma Cooperative Network in partnership with Tacoma Public Library, University of Washington – Tacoma, Black Brilliance Research, and the Seattle Community Network. We are striving to provide affordable Internet access to Tacoma and also grow digital stewards in our community.

Storytime S.T.E.A.M. Backpacks as a fun way to focus on exploring and playing with different mathematical ideas. Each kit features books, toys, and a paper with suggested activities, all inside a backpack you can check out! 

The Main Library in downtown Tacoma is being upgraded to improve safety, accessibility, and efficiency, creating an overall better visitor experience.
Upgrades will be made primarily to the modern addition (that is, the building attached to the Carnegie building, last remodeled in 1990); the Olympic and other meeting rooms, as well as the Handforth Gallery in the original 1903 Carnegie Library will also be refreshed.

Email: nwr@tacomalibrary.org

Phone: (253) 280-2814

Mailing Address: Northwest Room - Tacoma Public Library, 1102 Tacoma Ave S., Tacoma, WA 98402

The Northwest Room is currently open by appointment only.