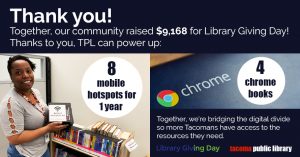 Thank you, Tacoma, for supporting Tacoma Public Library on Library Giving Day!  
This year, we asked for both donations and dedications, or testimonials about the impacts of TPL. 
Our community generously contributed $9,168, exceeding our goal of $8,000! These funds are being used to purchase four Chromebooks and power up eight Mobile WiFi Hotspots. With your help, we are working to bridge the digital divide so more members of our community can access a computer with high-speed internet.
We were touched by all of the dedications we received, and we hope you will be too:
Tacoma Public Library is where I got free internet access and Googled 'how to be a bike mechanic' when I was 16. Now I'm the programs director for 2nd Cycle and I get to teach young folks how to build and repair bicycles!
As a dyed-in-the-wool bookworm who never met a librarian I didn't love, the downtown library is within walking distance and is my first stop for entertainment, research, and community in Tacoma. A library is a refuge and an inspiration. Thank you!
I am always grateful for public libraries, but even more so during this pandemic. The amazing online resources offered by TPL are keeping me reading, helping my book club stay connected, and giving me access to weekly news magazines to stay informed.
I don't have anything fancy to say just libraries are good and they provide a valuable service.
I loved the 23 years that I spent working at TPL. Many of those years I worked with children and I still meet parents who tell me how much I helped their child to excel in school.
I remember participating in the Summer Reading Program and getting lots of stars. I also remember thinking - why would anyone buy a book when there is the library? This is a gift in honor of Lauren Angelo who works at TPL and has a birthday coming up!
I value the connection between Tacoma Public Library's youth librarians and Tacoma Public Schools' teacher librarians. Thank you TPL.
I visit the library at least once a week with my two kids. We stock up on books, play with puzzles, attend story time, and make crafts. This is an essential part of our week to make sure we have fresh reading material at our reading levels and to connect
In memory of Dr. Richard Lewis (1927-2020). Stadium HS, TCC, UPS, UO. Teacher, mentor, friend, he taught me to love books and reading.
I've been using the library for 25 years, when I moved here from Texas. It has become a big part of my life. The librarians are professional,  friendly, and helpful. Thanks
My ability to access audio books via the library's collaboration with other apps has enhanced my life. I have used my commute time to access self-help books, and books that spark joy. I am so grateful!
Once a week we walk with the kids to the Mottet Branch to check out books. Highlight of the week for our kids!!
Tacoma Public Library's Extreme Reader Group is an example of excellent community programming.
Thank you for hours of audiobooks. They have helped me get through these isolating times.
Thank you TPL for making our lives better. My son and I visit weekly to check out books that nourish our interests and curiosity and enable us to keep learning and growing. We also appreciate the public access to services such as printers and copiers.
The Tacoma Public Library raised me just as much as my parents. I would not be who I am today without the books I read thanks to the library, and I am eternally grateful to have access to such a wonderful institution.
When we first moved to Tacoma, one of our first activities was to find our local branch and get to know the collection. We were quickly blown away by how helpful the staff was with both book and resource recommendations. We love the Tacoma Public Library!
We look forward to Library Giving Day 2021! Thanks again for your support.