2023 Extreme Reader Challenge
Looking for a new challenge or way to add variety to your reading life? Sign up for Tacoma
Public Library's Extreme Reader challenge! During this year-long adventure, you'll explore new
titles and authors, read more diversely, and connect with fellow book lovers in your community!
Sign up today for the 2023 Extreme Reader challenge!
Visit the
Completion & Rewards
section to learn more about registering and reporting through Beanstack.
The Basics
The challenge begins on Tuesday, Jan. 3, 2023. The final day to register and report is Saturday, Dec. 16, 2023.
Read 50 books (teens can read 25) in 50 weeks from 55 categories to complete the
challenge and become an Extreme Reader

Adults and teens (age 13 and over at time of sign up) are eligible for the challenge

Books read must apply to current category list

Participants must have a valid Tacoma Public Library card to register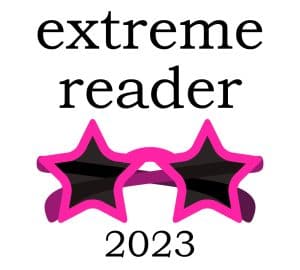 Categories & Recommendations
At a loss for what to read? Staff-curated booklists are available for many of the categories and are linked below. These booklists will take you directly to the Tacoma Public Library catalog, where you can place holds and add titles of interest to your library account.
2023 Extreme Reader Categories 
1. A book promoted or reviewed by another author
2. A book that changed or impacted your life
3. A classic by a Black, Indigenous, or person of color (BIPOC) author
4. A living author who you would like to have dinner with
5. A secret in it, opens a new window
6. About current events
7. Agatha Award winner or nominee (2015-2020), opens a new window
8. Audiobook narrated by the author, opens a new window
9. Author who identifies as trans or nonbinary, opens a new window
10. Author's first book and their most recent book (first book)
11. Author's first book and their most recent book (most recent book)
12. Book by an author that has published in more than one genre, opens a new window
13. Book of your own choosing
14. Book you picked based on the title
15. Breaks the fourth wall, opens a new window
16. Character on the run, opens a new window
17. Choose a book by flipping a coin
18. Comedy, opens a new window
19. Cover that made you look twice
20. Cover you'd hang on your wall as art
21. Explores environmental awareness, opens a new window
22. Explores neurodiversity, opens a new window
23. Features an uprising or rebellion, opens a new window
24. Features ancestral or intergenerational trauma, opens a new window
25. Fruit or vegetable on the cover, opens a new window
26. Good or Bad in the title, opens a new window
27. Great for a book club discussion
28. Has a character you relate to
29. Includes a mythological creature, opens a new window
30. Includes an assassin, opens a new window
31. Includes the legal profession, opens a new window
32. Inspires you to create or find a playlist
33. Literary fiction, opens a new window
34. Memoir about the service or labor industry, opens a new window
35. Name of a bird in the title, opens a new window
36. National Book Award Young People's Literature finalist, opens a new window
37. Non-English word in the title, opens a new window
38. Non-superhero graphic novel, opens a new window
39. Queer love story, opens a new window
40. Question mark in the title, opens a new window
41. Recommended to you
42. Set in a castle, opens a new window
43. Set in multiple countries, opens a new window
44. Set on the West Coast of the United States, opens a new window
45. Shelved in the 900s (900-999) non-fiction section, opens a new window
46. Strong female character, opens a new window
47. Takes place during a storm, opens a new window
48. Takes place in a time period you know little about
49. The 2023 Tacoma Reads adult or teen title
50. Themes of feminism, opens a new window
51. Told by an unreliable narrator, opens a new window
52. Under 150 pages, opens a new window
53. Unlikely hero, opens a new window
54. Would make a great movie or TV show
55. Yellow cover (must be 50%), opens a new window
Completion & Rewards
Extreme Reader registration and reporting will take place on Beanstack, a virtual reading tracking system. Through Beanstack you can log categories you've completed on a computer or mobile device by visiting the Beanstack website, opens a new window or downloading the Beanstack app, opens a new window. For more information on using Beanstack, visit our Beanstack FAQs, opens a new window.

, opens a new window
Once you sign up for Beanstack, the Extreme Reader challenge matching your age range (adult or teen) will be presented under the Reading Challenges. If you're already signed up for Beanstack with Tacoma Public Library, you can find the Extreme Reader challenge under the 'Challenges' section of your account.
Through the Beanstack tracking system, registration, reporting, and completion can now take place at any time during the challenge year. Registration is available throughout the entire challenge!
Several engaging features are available through Beanstack. You can add friends and 'compete' with your progress, plus users can leave reviews for books!
Extreme Readers who are unable to register and complete through Beanstack may contact extremereader@tacomalibrary.org or JoLyn Reisdorf at 253-280-2929 for more information.
Rewards
Rewards for each year will be awarded after the challenge year has concluded. The last day to complete the challenge is Saturday, December 16, 2023.
Updates & Challenge FAQs
Check back here for corrections, updates, and frequently asked questions!
Challenge FAQs:
Can both fiction and non-fiction titles count towards the challenge?
Absolutely! Either fiction or non-fiction titles can be read for any category unless the category itself states otherwise.
Does the subtitle of a book apply to category parameters?
Unfortunately, it does not. If a category requires a specific word or parameter, that content needs to be included in the main title.
For example, for the category 'A book with a royal moniker in the title,' the book "A Princess in Theory" by Alyssa Cole would count whereas "Elizabeth and Mary: Cousins, Rivals, Queens" by Jane Dunn would not fulfill the requirements.
Do audiobooks and graphic novels count in this challenge?
Absolutely! Both audiobooks and graphic novels are just another way to tell a story. As long as they are at the appropriate reading level for the participant, they are acceptable formats. 
Do juvenile books count towards reading challenge?
As Extreme Reader is based on the honor system, we hope that participants will honor the nature of the challenge with their reading selections. Teen and higher level Juvenile books count, but other lower level books (easy readers, picture books, and board books) will not be accepted. 
I love podcasts; both fictional and non-fiction storytelling varieties. Can they count towards the Extreme Reader challenge?
Unfortunately, podcasts cannot be counted towards the Extreme Reader challenge.
If I sign up for the challenge later in the year, can books I've already read be applied to the challenge or can I only count books that are read after I've officially registered?
Any books read between the program start and end date can be counted towards the challenge,
regardless of when you register.
Can I read one book and apply it to multiple categories?
 Each title you read can only fulfill a single category.
If I read a book for the challenge that I've already read before, does it still count?
Absolutely! If you read through a book during the challenge, it can be used, regardless of how many times you've read it in the past. 
I'm not old enough to register, can I still participate?
To officially sign up for the challenge through Beanstack, participants must be 13 or older by the time the challenge ends on December 16. However, anyone can use the category list to steer their reading for fun!
What if I'm too young to sign up, but will turn 13 during the challenge?
You can still participate in the challenge and register once you've met the age requirements, as long as that happens before the challenge and registration ends. Any books you've read since the start of the challenge in January will count, even if you weren't registered at that time.  
How do I pick which challenge level to join if I'm 18, or will be turning 18 during the challenge year?
Currently, the only difference between the challenge levels is the book requirement to complete. Beanstack will automatically show you which challenge you are eligible to participate in when you register.
Connect & Contact
Facebook
Connect with fellow Extreme Readers in the TPL Extreme Reader Facebook group! Share what you're reading, support fellow participants, exchange tips and reading recommendations, interact with the ER staff team, and make book loving friends! This group is for registered participants only, registration is required prior to joining the Facebook group.
Newsletter
Stay up to date on announcements, challenge updates, and more through our Extreme Reader email newsletter! Don't worry about signing up; if you've registered for the challenge, you are already on the mailing list.
Missed a newsletter? No problem! Previous editions will be linked here after they've published:
Overbooked Book Group
Overbooked is our low key, no pressure book group for Extreme Reader participants. We meet up throughout the year for fun socializing – where members can talk about what they are reading, share recommendations, and discuss the challenge. Dates and locations for Overbooked meetups are announced via the Extreme Reader newsletter and Facebook group.