Charlotte Nabors is a class of 2022 graduate of the University of Puget Sound, with a Bachelor's in History, Interdisciplinary Humanities Emphasis in Empire, Colonialism, and Resistance, and two minors in Studio Art and African American Studies. As a student, Charlotte received recognition for her dedication with the Roy N. Lokken Book Award presented by the History department, and a Certificate of Excellence for her reflective portfolio on her IHE program. While at UPS, she was active within the queer community and performed in two productions of Rocky Horror that benefitted student-run mutual aid groups. Throughout her undergraduate degree, she wrote multiple papers on local histories, such as the Bellingham anti-Sikh riots of 1907, utopian communities in Washington state, and the representation of Indigenous people in local museums. In April of 2022, she presented her thesis "Her World Changed: Anna Louise Strong and the 1916 Everett Massacre," on the radicalization of a young journalist and labor sympathizer following the shooting deaths of 
Industrial Workers of the World members by Everett police.
Originally from the Bay Area, California, Charlotte has built a deep love for Tacoma. In her free time, you can find her trying out new coffee shops, photographing cats in the North End neighborhood, and cooking for loved ones. She became interested in a career in libraries after working as a Resource Management Assistant at Collins Memorial Library, and later as a Senior Library Assistant. As the Community Archives Center intern, she has enjoyed making underrepresented and underserved histories more accessible to the public. Charlotte hopes to enroll in a Library Science Master's program in the fall of 2023, to continue to foster community through shared knowledge.
Can you tell us about some of the projects you worked on during your internship?
I came to Tacoma Public Library in February of 2022, and my first archival projects concerned the files of Paul Jackson, a Black videographer in Tacoma, and oral histories recorded by students at Franklin Pierce High School for an ethnic studies class. Often when the Northwest Room or CAC receives a donation, information may be incomplete or obscured, so a large part of archival processing is "getting the story straight" on the who, what, why, and where. Most of my time as the CAC intern was spent in archival processing, digitization, and uploading of materials into ORCA (Online Records and Collections Access).
My other major projects include digitization projects of local Black history and archival processing publications like the Woman Voter, the Northwest Dispatch, and Tacoma Indian News. During my internship, Charles Carson
worked with the CAC to preserve his collection of papers covering the founding of Safe Streets Tacoma, and his involvement in after-school programs for at-risk youth in the 1980s and 90s. Carson also introduced the CAC team to his mother Ramona Bennett, Puyallup tribal member and Fishing War activist, who was later interviewed by dindria barrow from CAC. I worked on scanning and uploading images, papers, and news clippings of Ramona covering her activism over the last sixty years.
On two occasions I assisted my CAC co-workers in recording oral histories at community events. Following the leak from the Supreme Court that threatened the overturning of Roe v. Wade, Anna Trammell and I joined protestors outside the Union Station in Tacoma to record local history as it happened. While Anna photographed signs, I conducted brief interviews about individual's reason for joining the protest and their emotions surrounding the news. At Poetry Picnic, hosted by Write253, I spoke with community members about our organization's purpose and helped connect with Tacomans who were interested in sharing and recording oral histories for the archive.
Did you come across anything you didn't expect? Did any of the content in the collections surprise you?
After spending so much time digitizing materials related to Ramona Bennett, it was exciting to see her name pop up in unexpected places. Outside of the images and papers donated to CAC by her son Charles Carson, I also found her name in the Tacoma Indian News, and in the papers of Arthur J. Miller, a well-known I.W.W. member, and civil rights activist. Every time I found her name outside of the collection specific to her, it was like running into a friend.
Sometimes surprises were less positive. For example, while I was processing multiple newspapers from Indigenous tribes across Washington State, I discovered a previous archivist chose to group all the materials under the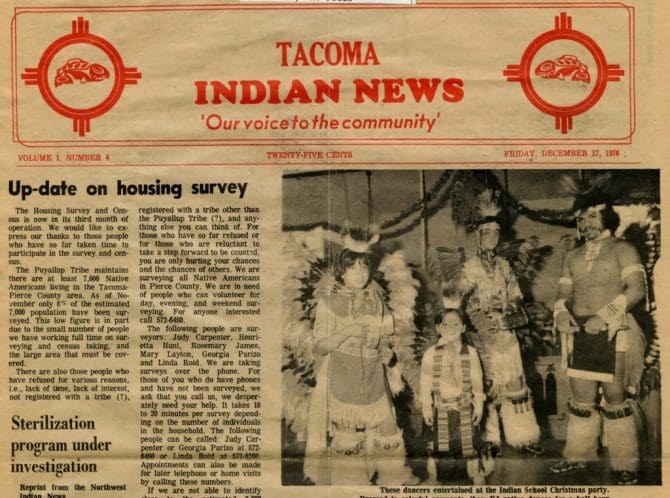 non-descript name of "Indian General File." The collection itself was unorganized and poorly cared for. It was disturbing, but not surprising, that this history was essentially hidden from potential researchers and interested community members because several decades ago, a previous archivist decided the collection was not worth appropriately processing and preserving. 
Now that you've completed your internship what do you hope people take away from these collections you worked on?
As the archival intern for the Community Archives Center, my work has centered on assisting the conservation and maintenance of archival materials from underrepresented perspectives in the local community of Tacoma. Simply naming the reality of the silences within the archives is not enough to enact real change – that effort must be deliberate, critical, and sustained. 
Since my time at Collins, working in libraries and archives has felt like I am "seeing behind the curtain" from my former perspective as a patron. In short, libraries and archives are made by people and are thus just as susceptible to biases, misinformation, and inaccuracies as people are. I don't say this to encourage pessimism, but rather to be realistic about how information is gathered, evaluated, stored, and remembered. I think it is powerful to reflect inwardly and meaningfully engage with questions about the origin, purpose, and future of our institutions of knowledge and learning.